---
---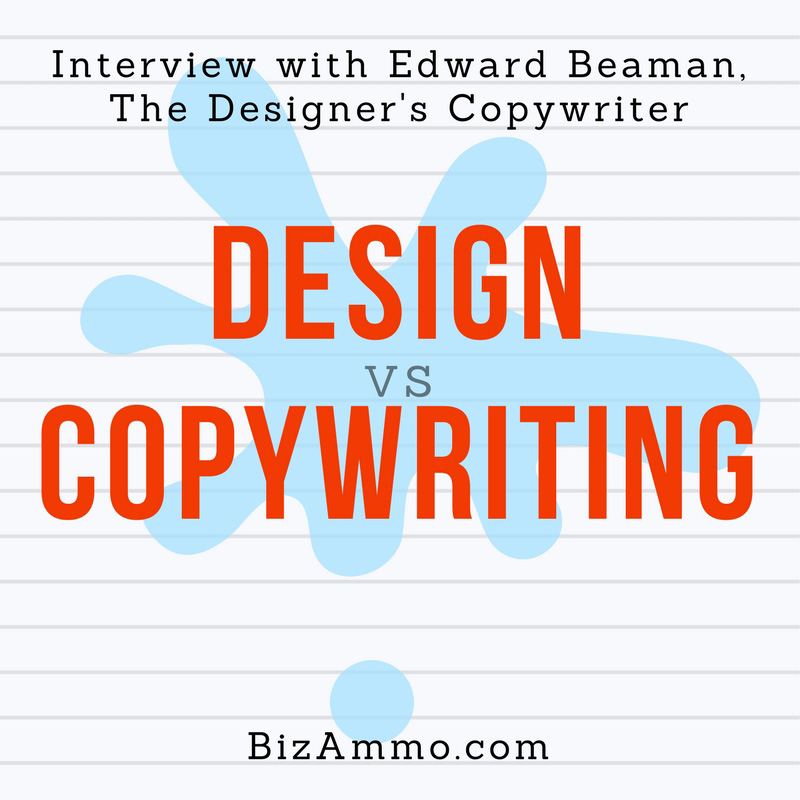 Whether your well-established business website is in need of a redesign or you're taking your business to the web for the first time, you're bound to run up against a contentious issue: web design vs copywriting.
Which comes first?
Should you hire a web designer and then bring in a copywriter?
Should you hire a copywriter first, get your messaging right, and then have a web designer build around that copy?
Fortunately, there's another option: You can work with a designer and copywriter who operate as a team to co-create a cohesive website for your business from Day One.
To help you learn more about this, and why it's important your website design and copy don't clash, I chatted with The Designer's Copywriter himself, Edward Beaman.
Edward specializes in website copywriting and SEO content writing for web designers and their clients. So he's well-versed in the importance of teamwork when building successful business websites.
Edward Beaman on Web Design vs Copywriting & the Collaborative Approach
Why is it so important for a company's website copy and web design to work together in an integrated way? What kind of problems might businesses face when the two come into conflict?
The copy's job is to persuade the prospect to buy your products or hire your services. The design's job is to help get the copy read and support the resulting user journey. In that way, the two need to work as one, seamlessly.
Both are vital elements. Get one wrong and everything fails.
I like to use the analogy of a car design process. The copy is the engine that drives the whole process, while the design is what helps carry the process through (the rest of the car).
The auto engineers can create a beautiful looking car with the best brakes and the most high-tech steering system ever developed, but if the engine they dump in at the end of the process is a second-hand rust bucket, then the car will be an expensive disaster.
When the design fails to support and frame the copy, you get website leakages. More and more prospects leave your site before being converted into customers. Sometimes this is because the design overwhelms the text and takes centre-stage.
Other times there's a mismatch between what the graphics suggest and what the copy actually says, which triggers subconscious warnings in potential customers. You know, that feeling you get when you know something isn't quite right but you're not sure what. So you leave.
When design and copy successfully work as one, they ultimately become invisible. The customer just flows through the process and before they know it, they're making a purchase or sharing their email address. Just like the perfect car gets you quickly from A to B without you even thinking about it.
If a company is considering launching or redesigning a website and they aren't sure where to start, what would you suggest? Should they focus on the design first, or the content strategy and copy?
Both and at the same time.
Again, going back to the car design analogy, the engine of the car is considered right from stage one. It's impossible to successfully design a car or a website without factoring in what will be the driving force taking people to the end goal. The whole supporting structure needs to be designed around the copy.
When designers and copywriters (and marketers etc.) collaborate right from the beginning, they can together shape the content strategy, website structure and desired end results of the project.
All great web designers and design firms collaborate closely with copywriters. I would advise all business owners to ask whether copywriters (yours or theirs) will be on the team from the very beginning when approaching any design firm. If not, then look elsewhere.
What happens if a business owner finds themselves in the middle of the web design process before realizing they should have included a copywriter in the process? Can the project be salvaged without their designer having to start over?
Yes.
A good copywriter is a person who can adapt to situations and make things work. If you realise you need a copywriter mid-project or your current writer is just not performing, then hiring a collaborative copywriter to connect with your design team is a wise idea.
Some aspects of the design may well need to be modified or updated but the collaborative copywriter will work largely within the boundaries of what has already been developed.
It's not ideal of course to bring a copywriter in midway but it's much preferable to waiting to the end of the design stage and then just plonking text in wherever it will fit.
Would you recommend a business owner hand-pick their own web designer and separate copywriter, or is it more in their interest to hire a sort of "package deal" where a writer and designer routinely work together?
I would advise business owners to hand pick their own copywriter whenever possible. This gives them the chance to pick a writer who might have done similar projects before and above all, has a style of writing that will best suit their business, identity and brand message.
By looking through a writer's website and portfolio, you tend to click with one writer over another based on their writing 'voice'. When you choose a 'package deal', there's a risk the writer will not be a suitable match for your business, or more importantly, for you.
This may sound silly but choosing a copywriter is a bit like choosing a friend. Sometimes you just prefer one person over another even when all things are equal. There's something about their style and communication that resonates with you.
And that's vital, because you and the copywriter need to have a good understanding, rapport and potentially long-term professional relationship.
There's also the fact that many design firms send work to freelance copywriters anyway, so you may as well have a say in who that freelancer will be early on. An experienced copywriter will be able to quickly connect with a design team even if they've never worked together before.
What the Web Design – Copywriter Collaboration Looks like
When it comes to web design vs copywriting, if you've chosen the more collaborative approach Edward recommends, what might that process look like?
I asked him. And here are some of the steps he says you should expect:
Step 1: A Joint Consultation
Edward suggests a three-way conference call between the copywriter, web designer, and you as their client. In that call you'll discuss initial requirements, introduce all parties who will work together (if the designer and copywriter haven't worked together before), and go over relevant information such as project scope and timeframes.
Step 2: A Designer-Copywriter Strategy Session
Next, your web designer and copywriter should work together (often with your direct involvement) on coming up with what Edward calls "a detailed plan of action and framework." These are the project specs you'll need to approve before either freelancer or firm can get to work on the writing or design themselves.
Step 3: Private Consultation with the Copywriter
Your copywriter will most likely want to talk to you one-on-one to discuss details not necessarily relevant to your designer. For example, they'll want to know more about your target market and what motivates them to buy. And if this is a redesign, they may want to discuss past conversion statistics for your existing copy to get a feel for what does and doesn't already work with your visitors.
At that point, your web designer and copywriter should be in a position to move forward. Edward suggests getting weekly updates during the project. Adjust that based on the scope of your web development project so you don't end up with a lot of content or copy that simply doesn't work with the new visuals.
If you don't want to worry about the web design vs copywriting debate, choose a collaborative copywriter from the start. Edward is available to help.
Already have your website redesigned, and now you realize your old copy no longer performs as it should? Edward can help with that too.
And did I mention he partners with designers directly?
Whether you're a designer looking for a copywriting partner or a business owner looking to bring in a freelance copywriter to help with your new design, Edward's your guy. Learn more about his copywriting services at www.EdwardBeaman.com or contact him today for a quote on your next project.