I'm notorious for changing my websites–moving then from one domain to another, merging sites, separating one blog into several, or just changing my permalink structures to allow for better navigation. Because of those things, I'm no stranger to dealing with broken links on my websites and blogs.
I used to hate going through my webmaster tools reports and server stats to find errors. Fortunately, there's an easier way, and it's free: Xenu's Link Sleuth.
It's a simple tool to use, and can look for broken links on your entire website or blog fairly quickly. Just download the software from the link above to get started. When you open the software, go to File > Check URL to check your website. An input box will pop up.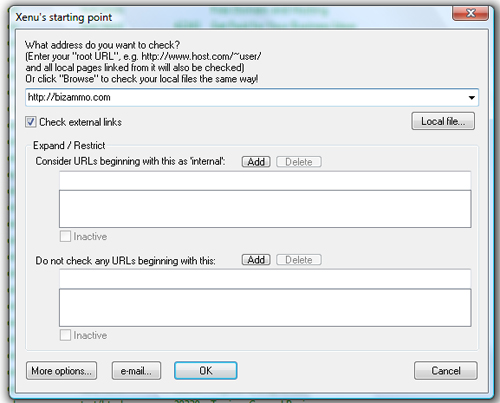 Type in your website's URL and make sure the "check external links" box is checked, unless you only want to make sure your internal links are okay. Click "OK."
Xenu's Link Sleuth will start to work its magic. If you have a very small site, it should process everything rather quickly. When checking this blog, it took a few minutes, so I allowed it to run in the background while I worked on other things. How long it takes will greatly depend on the size of your site and how many links are present.
When all is said and done, you will have a results page that looks like this: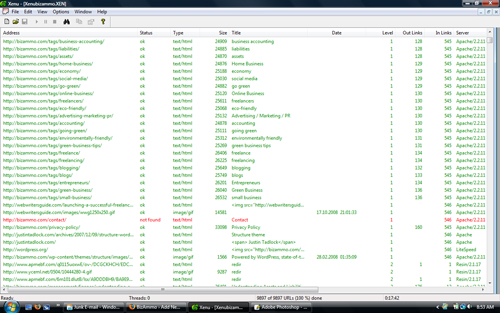 Links displayed in green are okay. Links displayed in red are broken links. For example, I found out that I had an old link to a former contact page at the bottom of this blog. Here's a closer look at the error line:

As you can see, the tool gives you the broken URL, the type of error, type of link, and the anchor text of that link which makes it easier to find and fix.
You have the option to save your results for later viewing in Xenu, or you can export them if you prefer. You can even convert the results to a Google xml sitemap.
Xenu's Link Sleuth is a free and easy-to-use tool that can help you identify problems with your company's website. Download it today and stop returning errors to your visitors.